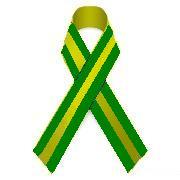 On this day, November the 8th 2007, in honor of the International
Intersex Solidarity Day, GendersInX is presenting the official
Congenital Gender Variations Ribbon in collaboration with the OII,
Organisation Intersex International.
This ribbon is a show of support for all people with congenital gender
variations and those who identify as Intersex. It is important that we
not only show by our actions that we are a strong people but that we
visually show our support, not only of those in our midst but for
ourselves, we who are struggling in social and medical circles because
of who we are.
This ribbon is offered in a gesture of solidarity and healing to all
people born with gender variations, regardless of their identity.
This is more than a piece of fabric; it is a symbol of our heartfelt
support for each other.

_________________
If you want to world to be a better place
Take a look at yourself
And make the Change
-Man in the Mirror, Michael Jackson